Enter Giveaway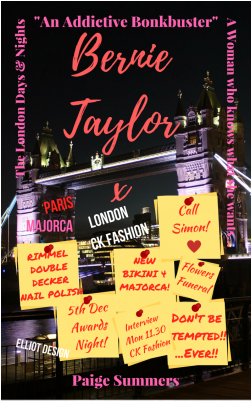 Bernie Taylor, is a sexy woman nearly 40 and knows what she wants, at last. Men want her but that is not enough. She's happy to play and work hard and good at what she does, in fact very good, but knows she can do better and won't stop until she gets what she's looking for.

With an opportunity offered to join a London Fashion House, she meets the desirable Simon Steadler. Falling in love with him was easy but trusting and holding on to love something else.

With events taking her in a different direction, she later joins Elliott Design. Along the way finding success, love, lust and betrayal. With good friends to turn to, she is not alone, that is until life changes in another direction again and the trust is gone. But Bernie Taylor knows what she needs to do and won't stop until she gets what and who she wants.

'Bernie Taylor: The London Days & Nights' is a masterful contemporary women's bonkbuster that unfolds a bold, impressive and sexy character of 'Bernie Taylor' a women with strong head, high ambitions and clear vision of needs and how to achieve them. Success at work and men come easy for Bernie but "something alluring- different" about Simon Steadler at CK Fashion London is bound to change her life.
Author Paige Summers manages to stir the heat and unsettle the emotions of her readers by skillfully placing a few strong, independent life-like characters in her novel whose bonds paint pictures of believable friendship and their camaraderie serves a necessary reprieve from the tension at times. 'Bernie Taylor' is definitely a clever combination of an intriguing coming-of-age anecdote with absurd situations of lust and betrayal saturating an immaculate plot, making it a powerful page turner that is sure To appeal adults and young adults with a taste for mature, thoughtful read.
Tender, touching and yet resonant, this book is an ideal recommendation for a relaxing day.... Enas Review.

"This is a delicious page turner, couldn't wait to see what she did next." T. Davidson
"Bernie Taylor, a woman after my own heart." R. Averson
"For my next night out, I want to go out with Bernie Taylor!" Will Grahams

(This has at times an erotic tone with romance and contains some graphic language with the love scenes.)

AUTHOR: PAIGE SUMMERS 2016



---
Enter Giveaway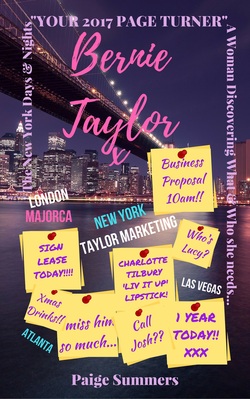 Sexy & strong, she knows her business, her merlots and her men but does she really know what she needs, to keep the man she loves?
Bernie Taylor: The New York Days & Nights is the 2nd in the series of Bernie Taylor Books. This is a masterful contemporary women's bonk buster that unfolds the bold, impressive and sexy character of 'Bernie Taylor' a women with a strong head, high ambitions and clear vision of needs and how to achieve them. Success in business and with men come easy for Bernie, and she'll fight for both. From being unfamiliar with true love and commitment she now has Josh, a man who is kind and loving but equally has a face and a body that you would crawl over broken glass to get to, or does she? Giving herself irrevocably. Being married to him was all she wanted, and yet divorce and heartbreak found her. A new life they had planned and embraced entwined with mistrust and lust. Two hearts that should have beaten as one, torn apart by suspicion. Finding shelter from life's storms, she finds comfort with others and battles sorrow and misgivings. But her greatest battle will be believing in herself. Believing that the end, could still be the beginning. Committing to it all, was just where it started, Not believing could see her alone again or further from where she knows she should be.
At times heartbreaking & seductive, Bernie Taylor. The New York Days & Nights is a much awaited follow up to Bernie Taylor: The London Days & Nights.
Author Paige Summers manages to stir the heat and unsettle the emotions of her readers by skillfully placing a few strong, independent life-like characters in her novels whose bonds paint pictures of believable friendship and their camaraderie serves a necessary reprieve from the tension at times. A heart felt recommendation for a relaxing day.
"Cracking read!" P. Finch
"Read this one before the first in the series but loved it. Found it easy to read and now I know what I'll be reading on my next holiday." Sue Hemmingley.
Other Books in the series: BERNIE TAYLOR The London Days & Nights
(This has at times an erotic tone with romance and contains some graphic language with the love scenes.)
AUTHOR: PAIGE SUMMERS 2017
---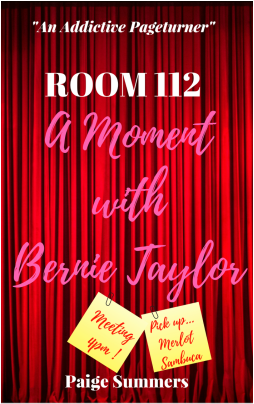 This is a brief insight into a moment with Bernie Taylor, or perfect for a 10 minute break! If you like, what you read here, you'll love THE BERNIE TAYLOR SERIES OF BOOKS that is out now on Amazon Kindle and Paperback.

Bernie is a woman that knows what she wants in business and pleasure.
If you enjoy a good page turner, and a glass of red with something 'hot and delicious' to escape to, then Bernie's your woman.

This is just to wet your appetite! Perfect for a Beach Holiday Read...Enjoy!
FILL OUT YOUR DETAILS IN THE CONTACT FORM ON THE HOME PAGE AND I WILL EMAIL IT TO YOU FOR FREE as a PDF. Must be over 18. Please allow 1-3 days for delivery.



---